At the office of Family Smiles Dental, we emphasize taking a proactive approach as the best way to maintain a healthy, beautiful smile. By coming to our office as recommended for checkup visits and routine care, we can help you and every member of your family prevent the onset and progression of many oral health problems. As skilled and experienced providers of care, we offer a comprehensive range of preventive services, including examinations, professional teeth cleanings, and oral cancer screenings, along with patient education on hygiene, diet, and healthy practices.
What Happens at the First Checkup Visit?
Your first visit to our office establishes your oral health baseline and provides essential information on your dental interests and needs. We begin by carefully reviewing your medical and dental histories and taking special note of all of your dental concerns, as well as any symptoms that you may be experiencing. This initial conversation is followed by a thorough clinical examination, including an oral cancer screening, periodontal evaluation, and an analysis of your occlusion (bite). To perform a comprehensive oral exam, we'll recommend and take diagnostic films as needed. As we take a close look at your smile, we'll examine your teeth, the supporting bone and soft tissues, and the surrounding areas of the mouth, head, and neck. We'll make a note of any signs of clenching or grinding your teeth and assess your TMJ (temporomandibular joint) function. A comprehensive oral exam can also reveal the consequences that certain dietary choices, eating disorders, medications, harmful habits, and inadequate oral hygiene practices may have on your smile.
We want every patient to enjoy the benefits of a healthy and beautiful smile. At the office of Family Smiles Dental, you can rest assured that your oral exam is performed with the utmost care and that every member of our team is sensitive to your needs. Based on your oral exam findings and what we see on your diagnostic films, we'll outline what further treatment, if any, may be needed and discuss all your options in care.

A Healthy Smile is Vital to Your Overall Well-Being
At the office of Family Smiles Dental, we recognize that a healthy smile is more than just an attractive asset; it is also essential to one's overall well-being. Harmful conditions affecting your teeth, gums, jaws, and structures in and around the oral cavity can impact your overall well-being. As we perform an oral exam and check for the development of common dental conditions such as tooth decay or gum disease and screen for oral cancer, we also take note of any signs of problematic health issues that may have originated elsewhere in the body.
Today, researchers are establishing more and more links between poor oral health and systemic disease. Mounting evidence supports the idea that dental disease contributes to a range of health issues, including the following conditions:
Digestive disorders

Respiratory Problems

Cardiovascular Disease

Stroke

Diabetes

Alzheimer's Disease
The reverse is also true. Just as oral health problems can be linked to systemic illnesses, diseases in the body can likewise produce oral health issues. According to statistics, more than 90% of all systemic diseases (conditions affecting organs and systems in the body) can manifest signs and symptoms in the oral cavity. Experiencing dry mouth, bad breath, gum problems, ulcerations, or other oral lesions may be indicative of an underlying medical condition.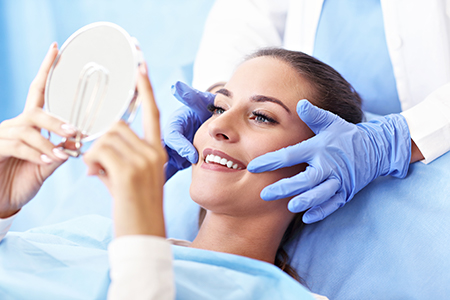 The Importance of Routine Checkups and Professional Dental Cleanings
Enjoying a smile that looks good and functions at its best is not something you can take for granted. To maintain optimal oral health and a vibrant smile requires an effective dental hygiene regimen, a nutritious diet, routine checkups, professional cleanings, and a comprehensive program of preventive care.
Remember, it's important not to hold off seeing the dentist until you're in terrible pain or think there's something wrong. By scheduling a routine appointment for a comprehensive dental checkup and professional cleaning, we can help you keep your smile looking and functioning at its very best.
Our office encourages patients to come in twice a year for routine checkups and professional cleanings. In this way, we can monitor your oral health, reduce your risk of dental disease, and detect any issues early in their onset when they are typically the simplest to treat.
While maintaining a healthy smile depends upon keeping your teeth and gums clean at home, even for the best "brushers" and "flossers," it's difficult to reach every nook and cranny between the teeth and gums. For this reason, we emphasize the importance of professional teeth cleanings. In this way, our hygienist can thoroughly remove any accumulated plaque and tartar from between the teeth and gums, including areas that you may have missed. Since dental plaque harbors the bacteria that are responsible for cavities and gum disease, its removal prevents these disease processes from occurring. Following a dental cleaning and polishing to remove any superficial stains from your teeth, your mouth will feel fresh and clean.
Checkup and cleaning visits also represent an opportunity to educate patients in the best oral hygiene homecare methods and routines to maintain a healthy smile. As your trusted partner in care, we'll carefully explain and demonstrate the proper techniques for brushing, flossing, and other healthy oral care practices.
Even though proper dental care is essential at every stage of life, it's especially important for children to establish a strong foundation for a lifetime of oral health. With routine checkups, preventive treatment, and age-appropriate education in the best methods for taking care of their teeth, we can help your little ones protect their smiles from dental disease. We also monitor your children's dental and jaw development as they grow; keeping a close watch to determine if any orthodontic intervention will be needed to align their smiles.
Our goal is to help you and every member of your family establish healthy practices that will last a lifetime. At the office of Family Smiles Dental, we're proud of the reputation we've established for providing skilled and compassionate care. We work hard to make every visit to our office a positive experience while building long-standing relationships with our patients and achieving outstanding treatment outcomes.
What Do Dental X-Rays Show?
Although we perform a thorough visual inspection of every aspect of your smile, the only way to see the deeper structures of the teeth, as well as the surrounding tissues and bone, is with dental x-rays or radiographs. Diagnostic x-rays not only reveal the presence of dental disease, but they also provide valuable information on the development, health, and integrity of teeth and orofacial structures.
Thanks to advances in technology, x-rays have entered the digital age. Instead of using traditional film-based methods, which involved long-exposure times and developing solutions, digital x-ray images can now be acquired, stored, and managed via digital sensors and integrated software programs.
Digital radiography offers several benefits to the patient, including the following:
Quicker with minimal exposure to x-ray radiation

Images can be viewed immediately after acquisition

Images can be electronically shared

Digital radiographs do not require any developing chemicals, create less waste, and are safer for the environment

Images are immediately stored in the patient's electronic file, where they can be easily viewed on a screen, shared, or printed out.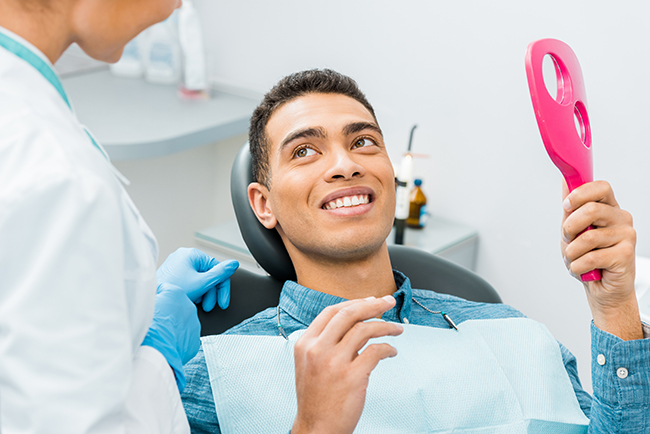 What Are the Different Types of Dental X-Rays?
The type of diagnostic images our office will recommend depends on the nature of your visit and your oral healthcare needs.
Here's a list of some of the most common diagnostic films and the value of these images:
Periapical x-ray - This small film is typically taken of an individual tooth and provides a view of the entire tooth from the top of the crown to the tip of the root and bone adjacent to it.

Bitewing x-ray - This small film captures detailed views of the crowns of the premolars or molars and is typically used to check for dental decay.

Full Mouth Series - This set of x-rays consists of bitewing and periapical views of all the teeth.

Panoramic Film (panorex) - This film provides a 2D panoramic view of all the teeth and the left and right sides of the jaw. It offers a view of erupted teeth, developing teeth, impacted teeth, and allows an assessment of the health and integrity of the jawbone.

Cephalometric Film - This film provides a profile view of the face and jaws and is often used by orthodontists to assess a patient's skeletal facial and jaw growth.
Today, it's also possible to capture detailed three-dimensional images for diagnostic purposes, treatment planning, and the delivery of care. By using Cone-beam computed tomography (CBCT) your dentist can acquire, analyze, and reconstruct 3D images of a patient's teeth, jaws, and surrounding anatomy. This technology is often employed for diagnosis, surgical planning, treatment, and the accurate placement of dental implants.
Frequently Asked Questions
+
Are you accepting new patients?
Yes. We always welcome new patients and their families for care. Feel free to give us a call or reach out to us online to schedule a first visit or for any additional information on our office. We look forward to hearing from you!
+
How often do I need to get a dental checkup?
Routine dental checkups and professional cleanings help ensure your smile remains in tip-top condition and that any developing problems receive the prompt care they require. While it's a good idea to schedule a checkup and cleaning twice a year, longer or shorter intervals between routine visits depend on your specific needs.
+
What if I haven't been to the dentist in a long time?
We understand that life gets complicated and busy, and for various reasons, you haven't been able to get to the dentist for care. Don't worry; it's always a good time to get back in touch with the health of your smile.
At Family Smiles Dental, we offer skilled and compassionate care to address a wide range of dental needs. Whether you need a simple checkup and cleaning, restorations, periodontal treatment, root canal therapy, or the replacement of missing teeth to get your smile back into shape, we provide precise, gentle, stress-free treatment to give you a smile that is as beautiful as it is healthy.
Give us a call today; we're happy to address all your questions and concerns about getting your smile back in tip-top condition.
+
Should pregnant women get a dental checkup?
For pregnant women practicing good oral care and seeing the dentist to maintain a healthy smile is considered an important component of prenatal care. Researchers have found that pregnancy not only increases the risk of oral health problems, but these problems may also lead to pregnancy complications. At the office of Family Smiles Dental, we provide the skilled and compassionate care required to help expectant mothers keep their teeth and gums in tip-top condition. While certain procedures are not recommended during pregnancy, we provide the necessary care and take all the necessary precautions required.
+
How can I improve the appearance of my smile?
Thanks to advances in modern dentistry, teeth that have been affected by a range of imperfections or that have sustained damage from trauma or dental decay can be restored to produce a naturally beautiful looking and functional smile.
As skilled and experienced providers of care, our office can effectively improve and enhance the appearance of teeth that are stained, discolored, misshapen, chipped, fractured, gapped, crowded, or broken down due to dental decay. At the office of Family Smiles Dental, we offer a comprehensive selection of the leading-edge cosmetic solutions from teeth whitening procedures, dental bonding, tooth-colored fillings, and veneers, to prosthetic solutions and dental implants to rebuild complete and beautiful smiles.
Contact our office to learn more about the many ways we can help you create the smile you've always wanted.
+
How should I prepare for my dental appointment?
If you're visiting Family Smiles Dental for the first time, it is helpful that you contact your former dental office and have your records sent over to us. Make note of any problems you may have so that you can discuss them with your dentist.
To provide efficient service, we ask you to please bring your insurance card, an ID, plus any referral slips or diagnostic records given to you by another office. If you are taking medications, please note or make a list of what they are as you will need to provide that information. If you'd like to save some time, you can fill out some of our forms online.
+
Does Family Smiles Dental treat patients of all ages?
Yes! We assure you that both you and your family will be in good hands at the office of Family Smiles Dental.
+
What if I'm anxious about seeing the dentist?
We do our best to make sure every patient who steps into our office for care is put at ease. We provide precise and gentle care and our skilled, compassionate team strives to make every visit stress-free. You can rest assured that your smile is in the best of hands and that we are doing all we can to ensure your comfort throughout every procedure. While we always take the time to explain every step in care, feel free to ask us any questions about local anesthesia and methods of dental sedation.
+
How much does dental treatment cost?
At the office of Family Smiles Dental, we strive to provide the highest quality of care to address all your dental needs. Once we've had the opportunity to examine your smile, we can give you a clear picture of any dental issues that are present, along with a quote for what the cost of treatment will be. The cost of care all depends upon the extent and complexity of issues affecting the health or appearance of your smile and the types of procedures that are required. Our goal is to make dental care more affordable so that you can begin treatment without any additional stress or delay.
Keep in mind that with routine dental checkups and periodic care, we can help prevent dental disease while treating emerging problems early in their onset to avoid larger issues and more expensive care down the road.
+
What if I have dental insurance?
Routine dental checkups and preventive care procedures may be covered under your dental insurance plan requiring little to no out-of-pocket expense. We invite you to speak to an expert in our business office who will advise you of your plan, and if you have any other questions about dental insurance, dental savings plans, forms of payment, or financing options. We welcome your inquiries and do our best to help you begin care without additional stress or delay.
+
What is the best method of replacing missing teeth?
If you've lost a tooth due to injury, decay, gum disease, or any other reason, we recommend dental implants to replace missing teeth. Dental implants come the closest to replicating the look, feel, and function of your natural teeth.
+
Is flossing as important as brushing?
Absolutely! Both flossing and brushing regularly are equally important to maintain your oral health. While brushing cleans the surface of your teeth, flossing cleans in between them. Flossing is important to prevent plaque buildup, which can cause gums to recede and lead to periodontal disease.
+
Do you still need to see a dentist if you have dentures?
Even if you have dentures, it is still necessary to see a dentist! Dental checkups help ensure that your dentures are comfortable, fitting properly, and that there are no other problems. Beyond assessing your dentures, our dentist will also perform a thorough examination of the jawbone, and surrounding soft tissues both inside the mouth, the face, and neck, to confirm that you remain in good oral health.
+
What should I do if I have a dental emergency?
Emergency dental care is a service we hope you'll never need- but if you do, the office of Family Smiles Dental is here for you!
Whether you're suffering from a chipped tooth, toothache, or any problem affecting your oral health, you can be sure to get the prompt attention and compassionate care you require at our office. Patient care and comfort are our top priorities, and we offer a comprehensive range of the most advanced services to address a broad spectrum of dental needs.
While the pain of a toothache is one of the more common reasons that patients come to our office for emergency dental care, we also promptly treat emergencies that are not necessarily painful like crowns that have been dislodged and broken dentures that leave embarrassing gaps in one's smile.
You can rest assured that your oral health is in the best of hands at our office. We'll quickly determine exactly what's wrong, explain your treatment options, and then provide the precise and gentle care you require to alleviate your discomfort and get you back on the path to oral health and wellness.
Your health and comfort are our top priorities. If your dental emergency is painful, if it affects the appearance of your smile, or if you suspect that an infection is present, our office will make every effort to see you as soon as possible for care.
+
Why choose the office of Family Smiles Dental?
At the office of Family Smiles Dental, we welcome patients of all ages for care and offer a comprehensive range of services designed to help every member of your family maintain a beautiful and healthy smile. Whether you or a loved one needs a routine checkup and cleaning, fillings, same-day crowns, a cosmetic smile makeover, the replacement of missing teeth or require the services of a skilled and compassionate emergency dentist, you can rely on our office for the highest quality care.
For more information on our office and the many services we provide, or to schedule an appointment for care, give us a call today.